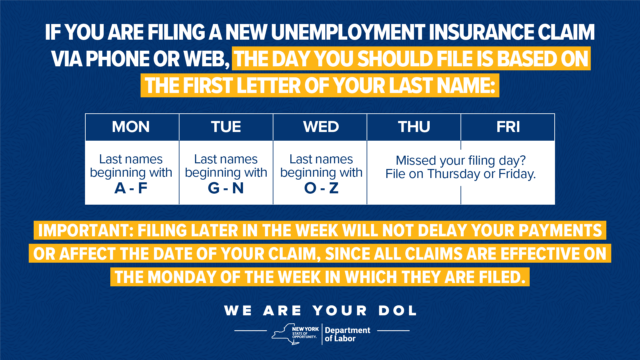 Providing Unemployment Insurance benefits is DOL's number one priority and everyone who is entitled to UI benefits will receive them in a timely manner.
To that end they are implementing a new more efficient filing system based on the first letter of the applicants last name (alphabetical order). Here is the step-by-step process for filing;
A  – F : Monday
G – N : Tuesday
O – Z : Wednesday
Missed your day : Thursday and Friday
Filing later in the week will not delay payments or affect the date of an individual's claim, since all claims are effective on the Monday of the week in which they are filed.
They are also extending filing hours as follows:
Monday through Thursday 8 am to 7:30 pm.
Friday 8:00 am to 6:00 pm.
Saturday 7:30 am to 8:00 pm.
Click Here for a step by step process to file a claim.
Please keep in mind that their dedicated staff is working as hard as they can to ensure that all benefits are paid and will continue to do so. Please be patient.