RESOURCES and SUPPORT for those affected by COVID-19
Our commitment to the well-being of our customers and our local communities remains as strong as ever. In response to current COVID-19 guidance to limit gathering opportunities and based on the Governor's mandate to reduce office staffing by up to 100%, our One Stop Career Centers are temporarily closed to the public. If you need assistance, you should contact your adviser by email.
We will continue to update the resources and information below with the latest we have available.
Resources to assist affected Businesses can be found HERE
Important Information for Unemployment Insurance Claimants: (as of 3/20/20)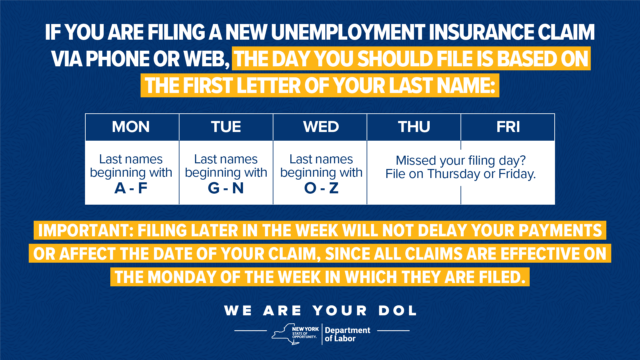 If you have had your work hours lessened, you are encouraged to apply.
NYS is waiving the 7-Day waiting period for Unemployment Insurance benefits for people who are out of work due to Coronavirus (COVID-19) closures or quarantines.
Providing Unemployment Insurance benefits is DOL's number one priority and everyone who is entitled to UI benefits will receive them in a timely manner.
To that end they are implementing a new more efficient filing system based on the first letter of the applicants last name (alphabetical order). Here is the step-by-step process for filing;
A – F : Monday
G – N : Tuesday
O – Z : Wednesday
Missed your day : Thursday and Friday
Filing later in the week will not delay payments or affect the date of an individual's claim, since all claims are effective on the Monday of the week in which they are filed.
They are also extending filing hours as follows:
Monday through Thursday 8 am to 7:30 pm.
Friday 8:00 am to 6:00 pm.
Saturday 7:30 am to 8:00 pm.
Click Here for a step by step process to file a claim.
They are experiencing an unprecedented increase in the volume of calls and web traffic for Unemployment Insurance claims. This massive surge created intermittent interruptions in service. Their team is continuing to fix the problem as they monitor the situation around the clock.
Please be patient – both the website and the phone lines are experiencing very high volume, with phone line wait times up to an hour or longer. There have been some glitches but the IT team and phone line team are working to resolve them.
DOL is adding staff and will be expanding hours to help address the rapid influx. Their dedicated staff are working as hard as they can to ensure that all benefits are paid and we will continue to do so.
---
Link for information regarding Health Insurance- Special Enrollment Period:
https://www.health.ny.gov/press/releases/2020/2020-03-16_nysoh_special_enrollment_period.htm
Apply for SNAP- nutrition assistance, HEAP- heating assistance, Temporary Income Assistance:
Click here for Resources for Businesses
Click here to learn about how to avoid layoffs by using the shared work program
Click here for guidance for determining whether a business enterprise is subject to a workforce reduction under recent executive orders
Click here for a WKTV article listing companies that are hiring during the coronavirus pandemic
Read the Benefits.gov "Finding the Right Help during the COVID-19 (coronavirus) Outbreak" article for helpful information on government benefits such as unemployment resources and healthcare coverage as well as resources for businesses and families.
Small business owners in all U.S. states, Washington D.C., and territories are currently eligible to apply for a long term low-interest loan due to Coronavirus (COVID-19). Apply online here.
The federal CARES Act was signed into law March 27, 2020. The Act provides enhanced Unemployment Insurance (UI) benefits and Pandemic Unemployment Assistance (PUA) for New Yorkers. The NYSDOL website has updated information to share: https://www.labor.ny.gov/ui/cares-act.shtm.
NYS Department of Labor IMMEDIATE JOB OPPORTUNITIES here: https://nyhirenow.usnlx.com/
For mental health resources, click here.
Helpful Social Media Pages to Follow: